Bergen Technology Center
Develop, manufacture and sustain state of the art logging services that provide Archer Wireline with a leading position within Well Integrity Diagnostics.
Bergen Technology Center AS (BTC) is developing state of the art technology for Archer Wireline and has more than 15 years of experience in developing, manufacturing and supporting ultrasonic logging tools for integrity diagnostics. Following the reorganization into a technology center in 2012, the expanded R&D team is now able to do a significant part of the development inhouse.
BTC history
2001   TecWel AS founded
2003   First LeakPoint job
(since then more than 2000 jobs worldwide)
2007   First FlowPoint job for CoP in Canada
2008   TecWel AS was aquired by Seawell AS
2009   First SPACE job for Statoil in Norway
2012   TecWel operations merged with
Wireline Services in Norway
2012   BTC AS founded REMS organization consisting of TecWel R&D and operations support
2015   BTC moved in to new custom built facilities at Nesttun

        BTC's office building at Midtunhaugen.
BTC's Facilities at Nesttun are custom built, finished in 2015, and is divided into a workshop and office building. In addition to offices, the new facilities include a production line, several special laboratories, a large workshop and a small test well.
The workshop is equipped to make parts for customized test setups as well as modify and repair prototypes. In addition there is a small test well for experimentation and testing of the ultrasonic imaging tool. For environmental testing there are several ovens and a small pressure test setup for verification and testing in pressurized gas or liquids.
In conjunction with the offices there is a fully equipped electronics lab as well as a robot controlled water tank setup for verification of acoustic performance of active ultrasonic tools.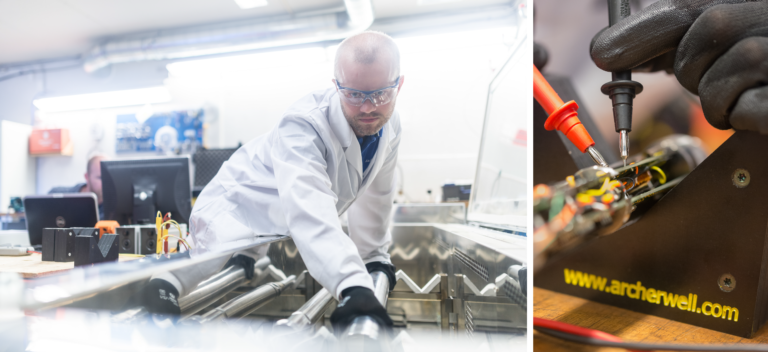 Remotely controlled heating oven for testing entire tools at high temperatures.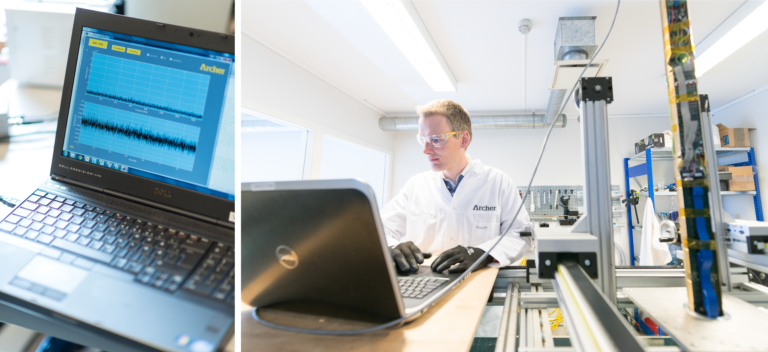 Customized software as well as setups for environmental testing.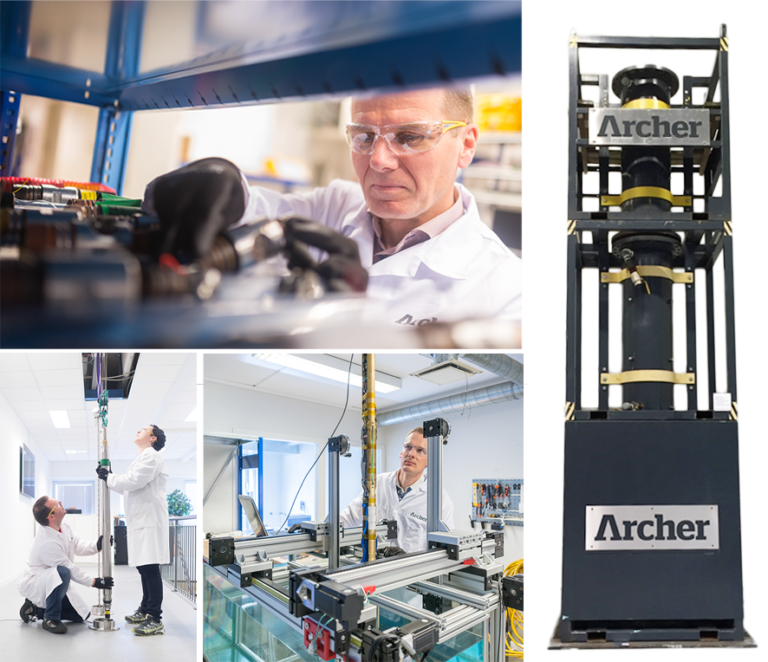 Dedicated production area. Water tank setup for testing and validation of ultrasonic equipment. Small test well for logging parts of downhole jewellery with our ultrasound scanners.
SPACE
is a collection of downhole ultrasound scanners providing high-resolution measurements and 3D images real time. SPACE is partly based on technology from medical ultrasound imaging. For more information, see https://archerwell.com/product-service/wireline/space/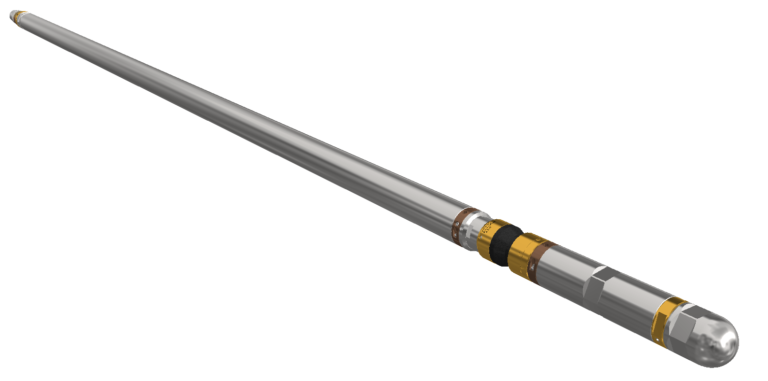 The new generation SPACE tools have an improved operational envelope, higher data acquisition rate and a robust proprietary high speed telemetry system. SPACE Panorama is scanning the internal surfaces of the well, creating 2D and 3D images of the well interior with the option of measuring the internal profiles and dimensions.
R&D collaboration
Bergen Technology Center is one of the partners in SFI SWIPA, Subsurface Well Integrity Plugging and Abandonment https://www.sintef.no/projectweb/sfi-swipa/
Bergen Technology Center is one of the partners in the Centre for Innovative Ultrasound Solutions (CIUS) project at NTNU. https://www.ntnu.edu/web/cius-sfi-/cius
Bergen Technology Center in collaboration with CMR was granted PETROMAKS2 funding for a project named "Ultrasonic spatial imaging and flow measurement through casing for assessment of cement condition and well integrity" https://www.forskningsradet.no/prosjektbanken/#!/project/225965/no
Bergen Technology Center was one of the partners in the Michelsen Centre for Industrial Measurement Science and Technology. https://www.forskningsradet.no/prosjektbanken/#!/project/174846/en
BTC in the news
January 17th 2017, SYSLA made an article about the technology developed by BTC. The article is in Norwegian. https://e24.no/olje-og-energi/i/xPjLVp/bruker-ultralyd-for-aa-finne-feil-i-broenner
November 4th 2016, Teknisk Ukeblad published an article about BTC's technology. The article is in Norwegian. https://www.tu.no/artikler/slik-har-selskapet-klart-a-sende-medisinsk-utstyr-flere-tusen-meter-ned-i-oljebronner/363846/