Wireline Interpretation, Technology and Training

Wireline Interpretation Services
Interpretation Services is a specialist group with expertise in log analysis, engineering and geoscience.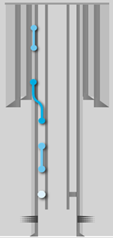 The group is responsible for the processing and interpretation of wireline logging data, the generation of data products, and their delivery to the customer. A primary focus is on the delivery of Archer Point™ and SPACE™ series products, a process requiring in-depth knowledge of ultrasound techniques and including the modelling and integration of supporting data types such as temperature and pressure. Our portfolio also includes the analysis of other Archer cased-hole wireline data with emphasis on well integrity and production profiling; this includes caliper, electromagnetic and cement bond-quality surveys, production profiling and pulsed-neutron log interpretation. Archer's high standard interpretation products provide clear and timely answers, and additional rapid-response and premium interpretation products are also available for many services. Our worldwide interpretation centres, equipped with leading edge industry and proprietary software, provide around-the-clock analysis and support wherever our customers operate.
Interpretation Services has established quality systems within the Archer Quality Management System. The core interpretation workflow processes are supported by a library of technical documents and guidelines. A system of internal peer review and technical sign-off has been established to ensure the technical quality of products. Key performance indicators based on turnaround time and client feedback are used to measure and continually improve service delivery.
Wireline Technology and Training
As part of Archer's commitment to providing quality services to our customers we have an active training, competency and employee development system.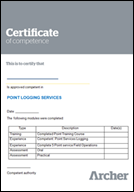 Training in our core services is available from entry level Field Engineers through to General Field Engineer level and also for sales and support staff. We also provide bespoke training for our customers. For non-core services external training is brought in as required.
Resources include a dedicated training centre in Stavanger, Norway with a 400m deep test well with other international locations supported by on-site training. For refresher courses and the introduction of new products and services, training is via online video conferencing. Training support material is regularly maintained and held on an internal site accessible to all involved personnel.
To assure customers that qualified field staff are supplied we follow an in house competency certification system which is based on attending service specific training, passing assessments, gaining required experience and line management approval.
Our competency system is also the cornerstone of field engineer career development.